How a trip to Oulanka National Park led to thoughts on deepening our pupils' connection to nature
Travel broadens and stimulates the mind.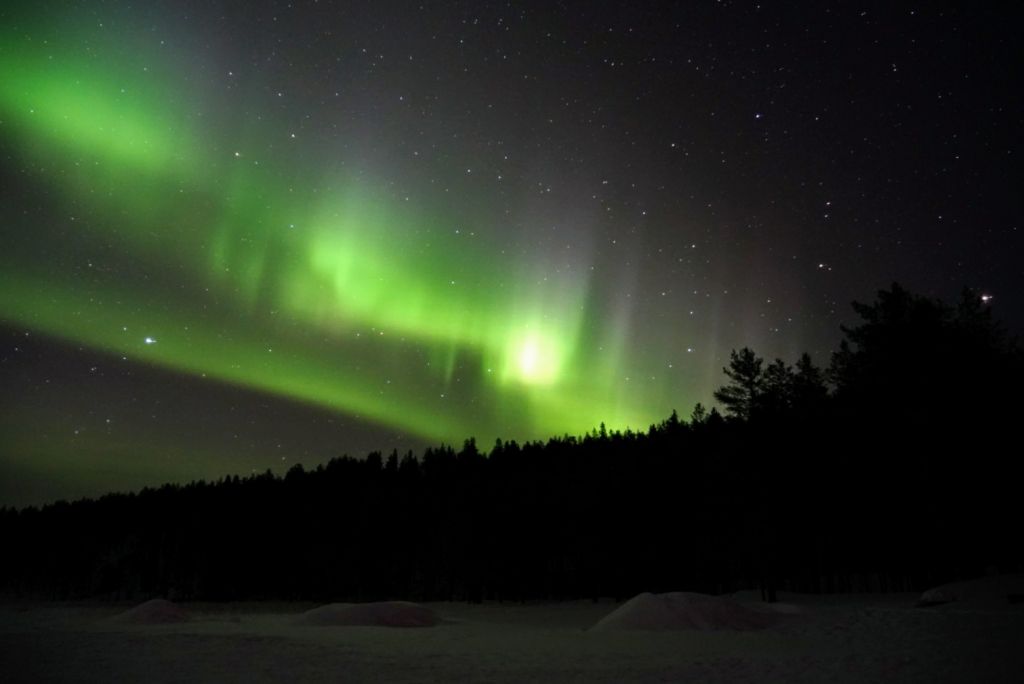 We did new and exciting things like snow shoe walking, husky-dog sledding and building a Quinzhee (a kind of igloo). We also did cross-country skiing and - yes - even managed to see the Northern Lights. All this in temperatures ranging from -25C to what our guide described as a 'mild' -12C.
To some extent we were in a similar position to pupils arriving on our English summer courses for the first time. I have to confess to a little anxiety in getting to know new people, but taking part in organised activities with them made this easier and it wasn't long before we were laughing and sharing stories with people who just a few days earlier had been complete strangers.
Nevertheless, there were some who didn't mix particularly well; and I found myself beginning to tire of some of the company by the end of the week. I suppose we all need our own space from time to time and there are undoubtedly differences between cultures. I made a mental note to find ways of better supporting pupils who find socialising more difficult; and to provide time and space for all pupils to enjoy downtime when they need it.
But the strongest impression I took away from the trip was not so much our fellow travellers, but the beauty of the landscape and the strong connection of the Finnish people to that landscape. We had various Finnish guides for the different activities but all of them talked passionately about nature. We learnt, for example, about the way arctic hares turn white in Winter. With winter snow arriving late (as a result of climate change?) this makes them 'sitting ducks' (if you'll pardon the mixed metaphor) for predators like foxes.
At the husky farm I was expecting a harsh regime for the dogs. On the contrary we found people who appeared to genuinely love and care for the animals. Older dogs, for example, beyond their working life, were allowed to enjoy their 'retirement' in the continued company of dogs and humans; no dogs were bred for sale; and we were told affectionately about the quirks and habits of the different dogs, all eighty of which had a name.
During a night walk we were asked to form a circle, switch off our head torches, face outwards, stay silent and just experience. It was a simple but very peaceful and significant moment, standing under a freezing, brightly starlit sky. On another occasion I wasn't 100% convinced by the tree hugging, but hey, give it a go!
We met a Finnish lady while we were cross-country skiing on a frozen lake. In our limited experience the Finns can be quite reserved with strangers. Meeting people on the forest trails, for example, the older generation tended to walk by without greeting. That felt a bit strange at first. In this particular case, however, the lady on the lake was happy to talk with us. She maintained that 'nature teaches us everything we need to know'. I'm a bit too old to fully accept such sweeping generalisations, but it was another example of the respect accorded to nature by the Finnish people.
Nature even makes its way into Finnish airports. The toilets have birdsong instead of piped music. Interior decor makes extensive use of natural products like birch wood. An immersive exhibition allowed one to step into the centre of a wrap-around video display of the Finnish wilderness, trees and leaves swaying in the wind to the accompaniment of high quality surround sound. Reclining chairs help the airport visitor to make the most of these moments, taking them 'out' of the airport for a while and into a peaceful natural landscape. That could be greenwash of course - this was an airport after all - and even a pleasant immersive experience cannot get anywhere near the real thing - but it did help to create the impression that the Finns are spiritually close to nature.
I speculated with Sarah about whether a closer spiritual connection to nature, perhaps mediated by technology, might become a new kind of religion in the rationalist west, one that doesn't put man at its centre, one that emphasises respect and wonder for the natural world. There are signs of this already in buildings like The Kamppi Chapel in Helsinki. I personally believe that many of the world's problems, from war to human migration to financial crises, stem from a natural environment feeling the strain of human domination. If a new nature-based religion is what it takes to persuade humanity to move more into balance, I am all for it, especially when it feels good for the soul!
So how can we encourage pupils on our international English Language summer camps to create or rediscover a closer connection to nature?
ECS was established over 30 years ago to give children and teenagers an enjoyable holiday learning English in the English countryside. At that time we were called The English Country School and later English Country Schools. Most people today know us as ECS. Encouraging our pupils to enjoy and explore the natural environment remains a key part of what we do.
Our courses take place in an extensive and very beautiful rural campus, with woodland, ponds, even a small river in the school grounds. This provides a green and healthy backdrop for a wide variety of outdoor sporting, social and educational activities.
We arrange language-learning activities for pupils to help them better observe and appreciate the world around them. Attractive, engaging classroom materials from National Geographic aim to 'Bring the world to the classroom and the classroom to life'. These are supplemented by out-of-class activities such as nature studies and a digital photography workshop that help pupils to focus on the beauty of their surroundings.
We also take walks and other excursions into the surrounding countryside, for example to the Jurassic Coast of Dorset; and our technology-free English through Adventure camp takes pupils back to nature in a very beautiful location by the sea.
I am sure there is more we can do, night walks and silent circles to name but two. We hope that after a holiday in the fresh air of the English countryside pupils will return home not only happy, healthy and with improved English but also with a deeper connection to the natural world - as Sarah and I did from our trip to the Finnish wilderness. Thank you Oulanka Basecamp!
© Christopher Etchells, ECS, 2019