English language
lessons online
Accredited online English lessons with ECS
If you are looking to improve your English grammar or speaking, prepare for an exam or work on your English language skills more generally, online lessons are a great way to give your knowledge, understanding and confidence a boost. You can learn English individually or as a group at any time of year with ECS online English language tuition.
Our online English lessons are accredited by the British Council and delivered by one of our qualified and experienced English teachers. This means you can choose ECS with confidence for your online English lessons, knowing we will uphold high safeguarding and quality standards. Learn more about British Council accreditation.
Online English language courses allow you to learn at a time and pace to suit you – just connect and start learning with one of our experienced teachers. Online English lessons are a great way to gain confidence and focus on your learning needs. Read more about the benefits of adding online learning to your language experience.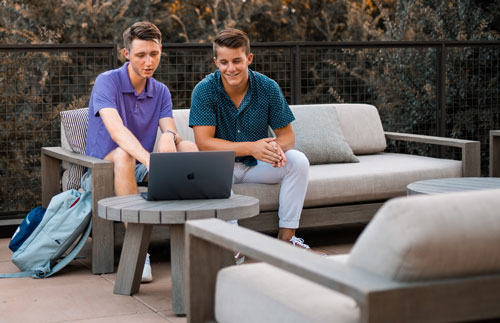 Online English language courses at ECS
Private or small group online English lessons
Private online English lessons are a great way to boost your English in a flexible and personalised way. Learners connect with ECS via their computer or laptop for an engaging, live lesson with one of our friendly and experienced teachers.
We will find the time that works best for you and cater teaching to match your learning goals and needs. These lessons can be one-to-one or for a small group - great for friends who want to learn together.
Prices: GBP 250 for 5 hours or GBP 450 for 10 hours (the cost is reduced for two or more people sharing a lesson)
Returnee discount
Pupils taking any of our online English lessons qualify for a 5% discount on future lessons and courses.
This means the cost of online lessons can be recouped if a new pupil subsequently attends our English summer school in the UK.
Online English lessons for groups
For groups of up to 15 students, e.g. a school class, we can arrange daily English lessons tailored for children or teenagers. We also invite you to come explore the sites of Britain with a fun online tour for all ages.
Fun with English (ages 7-12)
Two 50-minute sessions each weekday combining art, crafts, games, music and more to get children moving, thinking, being creative and having fun in English. Combines language learning with general educational development.
Terrific Teens! (ages 13-17)
A choice of English lesson or educational workshop each weekday followed by a social activity to get everyone speaking and having fun together. International Day, Talent Show, Quizzes, Escape Rooms - there will be something for everyone. A chance for teens to continue practising their English with their peers around the world while having fun and making new international friendships.
Visit Britain! (all age groups)
Join us for a virtual excursion around the UK, visiting famous places like London and Bath plus other fascinating places to discover. On the way we'll learn about the history, culture and traditions of Britain. We'll visit Stonehenge, stop for a break in the beautiful Lake District and even enjoy the view from the top of the UK's highest mountain. The following week we'll return to London to explore the sites, sounds and heritage of this famous city in more detail.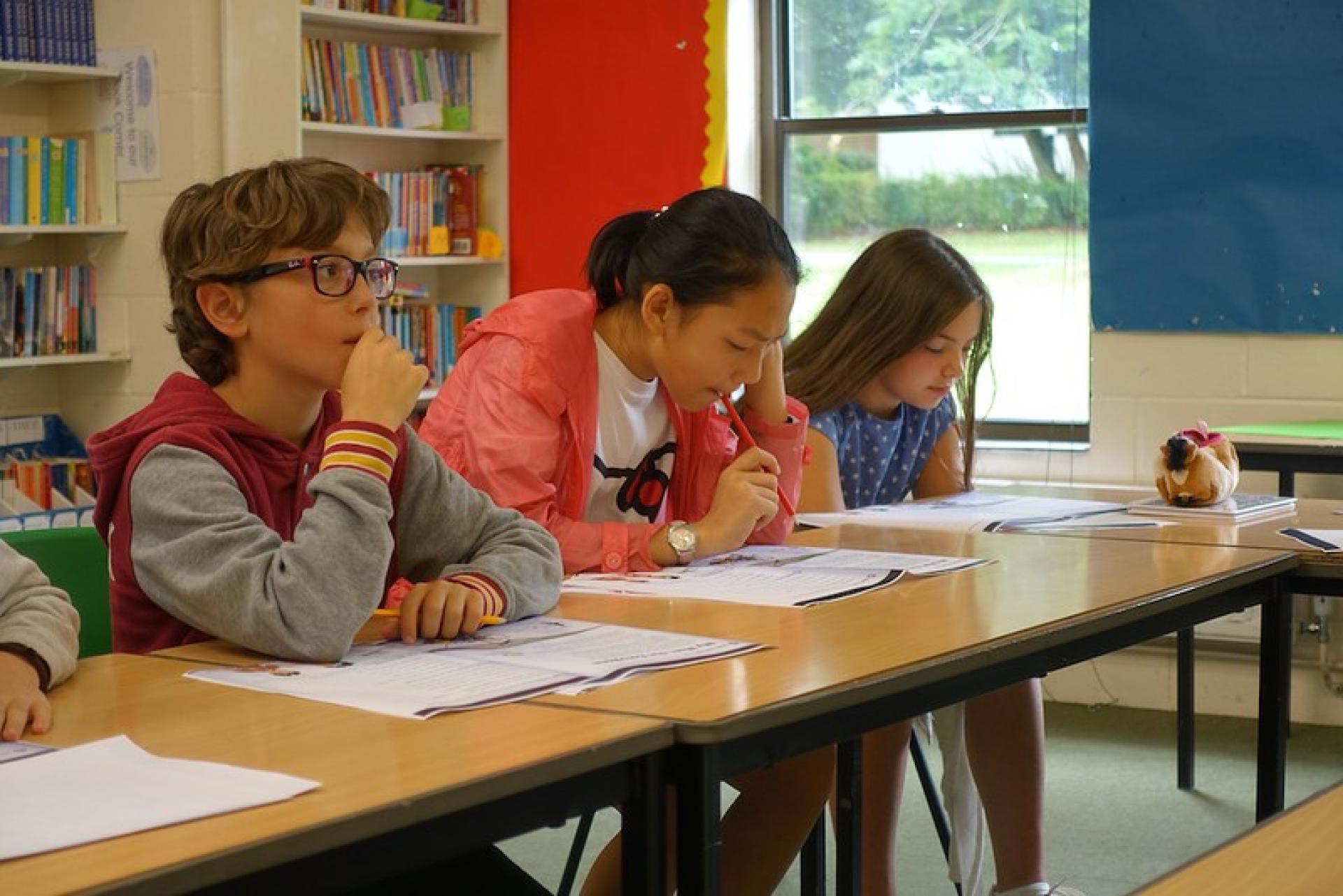 Benefits of online lessons
Flexible and convenient
Online lessons are a convenient and flexible way to boost your English language skills and confidence. You can do your online lessons anywhere – at home, with a friend or in a quiet classroom straight after school. It is easy to manage your time and include language lessons in your day when there is no need to travel.
Great tools and technology
At ECS, we use tools like Zoom in our online English lessons. That means our fun teachers can use a digital whiteboard and chat to clarify English spelling, share images, documents and presentations to help explain grammar, listen to clips and watch short videos, and of course practise lots of speaking and English conversation. Access to different media helps keep online lessons engaging for children and teenagers. There is no need to install a programme on your computer.
Gain confidence
Taking individual or small group English language lessons online is a great way to gain confidence. Kids and teens may feel unsure and uncomfortable speaking in another language. Young people may also feel shy and too nervous to share their ideas and opinions in front of a group. Starting with a one-to-one or small group online lessons can be a great way to build confidence and become comfortable speaking up in front of others.
Focus on your needs
One-to-one online English language lessons can also focus on exactly what a pupil needs. Whether you want to work on grammar, pronunciation or speaking, our friendly and professional teachers can tailor your online English course to meet your needs and interests.
If you are unsure of your language goals or don't know what areas you need to improve, we can help. We work with children and teens to establish their learning priorities and produce a personal online language programme to meet them. Whether grammar, speaking, exam preparation or general revision we can help you meet your English language learning aims.