Getting to ECS summer school
The English Country Schools English summer camp is based at Port Regis School in Dorset, in southern England. The school located in the quiet English countryside but is easily accessible by plane and train via London.
The majority of pupils attending ECS summer school travel independently to and from London. The ECS team then meets our pupils In London and we travel to Port Regis School together via coach. The school is about two hours from London by coach.
See our exact pick-up and drop-off times and locations for our summer school below.
Summer camp address:
Port Regis
Motcombe Park
Shaftesbury
Dorset
SP7 9QA
tel: +44 (0) 1242 604067
email: info@countryschools.co.uk
How pupils travel to ECS
There are two primary ways most pupils choose to travel to London:
by plane to Heathrow airport
or by train to London St Pancras International.
As flying has a very high environmental impact, we encourage you to consider taking the train for all our part of your journey if possible. If you are unsure how, please do not hesitate to contact us. We can help you plan the journey and find travel buddies.
Learn more about environmental responsibility at ECS.
Bringing your child to the school personally
If you would like to travel with your child and bring them to the ECS summer school personally, please ask us for travel directions and details of local accommodation.
Unfortunately we cannot provide accommodation for parents or for pupils who arrive before or leave after our scheduled arrival and departure dates.
Learn about facilities, bedrooms and food at Port Regis School.
By train
If you are travelling from Europe, you can reach London St Pancras via the high-speed rail Eurostar.
Pupils arriving by train will be met by a member of the ECS team at St Pancras. Together they will take public transport to Heathrow where they will join one of our coaches to the ECS campus, see times below.
You can reach London in just two hours from Paris or Brussels, or four or five hours from Cologne, Frankfurt, Amsterdam and most of France. Flying has a very high impact on the environment so we encourage you to consider taking the train wherever possible.
There is also good train service from London to Gilllingham (Dorset) near Port Regis.
If you are interested in travelling to ECS by train, but are not sure what to do, we are here to help. We can also help connect pupils so they can travel together. Please contact us for details.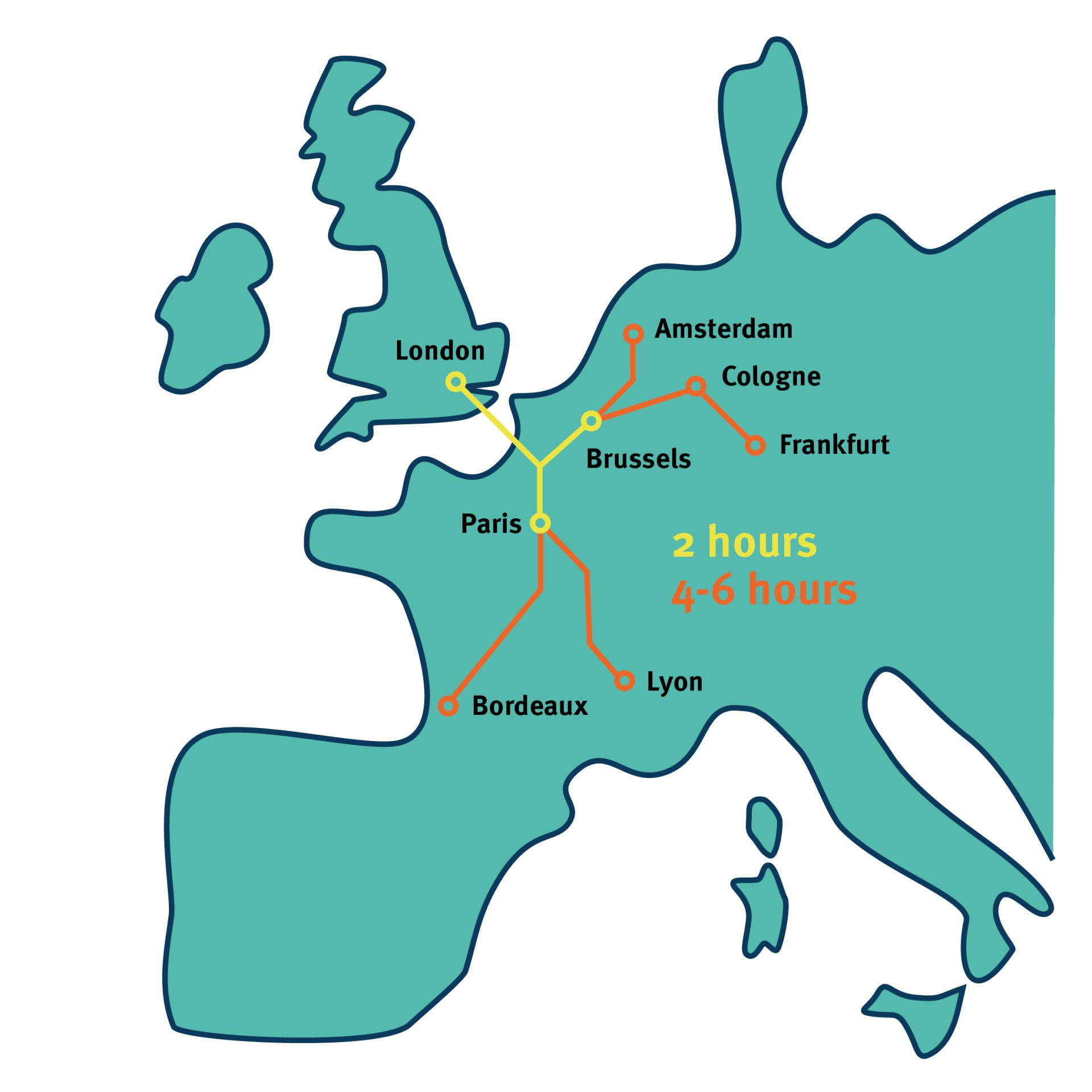 Arrival
We organise free transfers from London Heathrow to the ECS campus. Our team will be waiting to meet pupils from from 11:00 to 16:00.
This year our coaches will depart from Heathrow for the school at approximately:
13:00 on Sunday 7 and Sunday 28 July 2023
16:00 on Sunday 7 and Sunday 28 July 2023
Departure
We provide free transfers to London Heathrow. Our team will help pupils check-in for flights departing between 12:00 and 16:00.
This year our coaches will arrive at Heathrow from the school at:
10:00 Sunday 28 July and Sunday 11 August
12:00 Sunday 28 July and Sunday 11 August
Other times and airports
Pupils whose flights arrive or depart outside of the times above can be taken care of by a reputable company until the ECS team arrives/ their flight leave. This service cost around £60 per child.
For pupils who arrive at London Heathrow after 16:00, depart London Heathrow before 12:00 (midday), or travel via other airports, we can arrange escorted taxi transfers at extra cost
Approximately prices are: GBP 250 for Heathrow; GBP 275 for Gatwick; GBP 130 for Bristol). The cost reduces for children travelling together. The cost increases for children travelling as Unaccompanied Minors (UMs) or travelling at unsocial hours. Contact us for details.
Taking care
Transport and travel is a major cause of climate change and environmental pollution. This is a difficult but important area of our lives to take action and there are lots of steps we can take, such as taking the train wherever possible, flying direct and working hard to reduce our emissions elsewhere.
Find out more about what we do and how you can help us reduce emissions on our environmental responsibility webpage or on our Environmental Tips for Students.
Travelling alone / Unaccompanied Minors
The majority of ECS pupils travel independently. Wherever possible, we will put you in contact with other parents so that children can travel together.
Young children can also travel in the care of airline staff as Unaccompanied Minors. This is safe and normal. Please check if your airline allows this. With sufficient notice we can arrange for a 'Flying Angel' to accompany your child on the flight.
London Heathrow Airport offers a 'meet and assist' service to accompany your child between the plane and our representative in the airport. The cost is around £125.