Environmental
action at ECS
Taking steps for the environment
At ECS we care deeply about our pupils and the world they inhabit, today and in the future. That's why we take environmental responsibility very seriously and continuously look for ways to reduce our negative impact and increase our positive impact on our world.
We are striving to be an environmentally friendly school.
In recognition of our commitment to environmental action, we have been awarded our industry's first externally validated marque of environmental responsibility from Green Standard Schools.
We are always looking for ways to live more sustainably and hope you will join us in taking action, changing habits and speaking up for a better, greener future.
We are working hard to reduce our emissions and be part of global efforts to protect our future for our young pupils, friends and family.

We hope all our pupils will take new perspectives and knowledge home with them, and feel empowered to change our world for the better.
If you think of anything else we can do to reduce our negative impact on the environment and become a greener English language school, please tell us.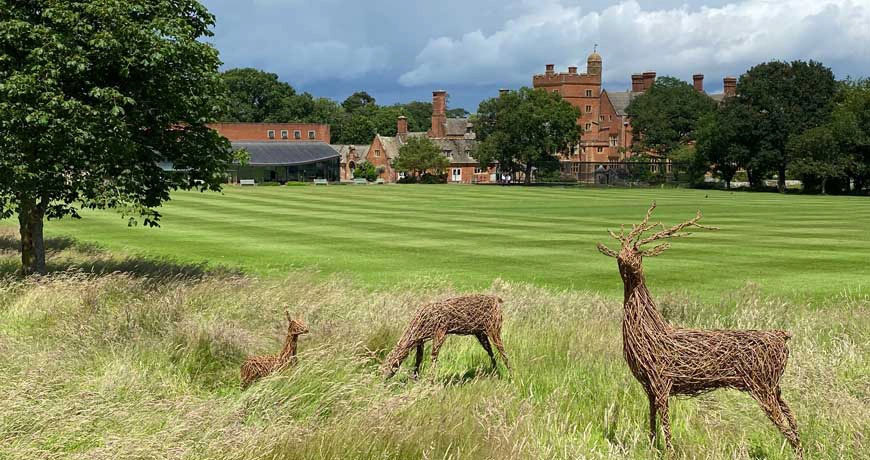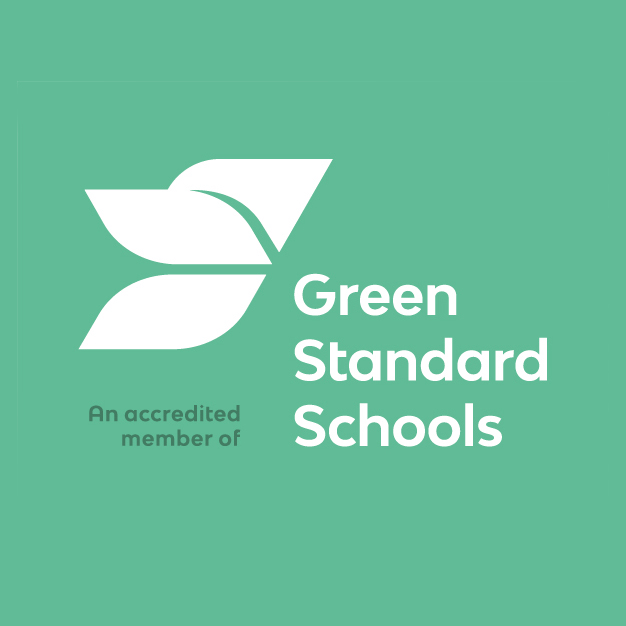 Transport and travel creates around a fifth of global greenhouse gas emissions and around a quarter of Europe's emissions. It is a major cause of climate change and a key area for reduction.
At ECS we always choose the lowest emission way to travel, usually minibus, coach or train. Our campus location means daily travel to classes, meals and activities are all by foot.
But we recognise that most pupils come to ECS by plane and that this forms the largest part of our carbon footprint. This travel is very harmful and is not something we can ignore or cancel out.
So we are working hard to bring our overall emissions down by taking extensive action in other areas; to increase our positive impact by giving our language lessons and pupil activities a strong environmental focus; and by supporting environmental projects. Find more on these below.
We also strongly encourage our pupils and their families to consider taking the train for part or all of their journey to the UK. We are happy to advise you or help you find travel buddies who are also attending our course. But we appreciate travelling overland is not always possible. In that case we encourage you to make ECS your only flight this year and stay for the full course to make the most of your journey.
Find out more about what we do and how you can help us reduce travel and transport emissions by expanding the section below. Please also see our document Environmental Tips for Students.
What we do
Avoid flying and driving
Hold meetings/ events online
Campus school to avoid travel
ECS summer trips by train or coach
Digital brochure and information
Encourage pupils to use low-emissions transport
Informing and working with staff, pupils and parents to reduce travel emissions
What we do
#1 Our directors don't fly for ECS
ECS co-directors, Chris and Sarah Etchells, rarely fly for business. They hold meetings online and attend events digitally wherever possible. When they do travel for meetings, professional conferences and other work events they take the train. They avoid flying in their personal lives and never take short domestic flights. Instead they enjoy travelling by train or in their electric car.
#2 Encouraging staff to use low-emission transport to ECS
We use an our ECS staff Facebook group to encourage our summer team to use low-emission, overland transport like train when they travel to and from ECS in the summer.
#3 At ECS we walk and cycle locally
As ECS is a residential summer school, there is little extra travel once you arrive here. Everyone lives together on one campus rather than in separate residences across a town or city. Our pupils can walk between classes, meals and activities – a healthy and low emission way to get about! And many of our staff choose to cycle around campus.
We enjoy the campus on nature walks for younger pupils, take pupil-led walks into the surrounding countryside and visit our local town, Shaftesbury by foot. It is a small market town just 30 minutes away.
#4 Summer trips by train and coach
When we leave our campus to go out on excursions and trips, we arrange the most environmentally friendly form of travel available. As ECS is based in the countryside, this is most often a coach or minibus.
When we choose our coach provider for the summer, we always ask about their environmental policies and pick the most responsible operator we can find. We also travel by train from the nearby Gillingham station, for example for our London explorer weekend for pupils aged 13+.
#45 Cars and taxis are a last resort
We very rarely need use taxis or cars at ECS. Instead we plan in advance and arrange more efficient group travel by minibus, coach or train. If we do have to use taxis we always try to arrange shared journeys for a full car and a more fuel-efficient journey.
#6 Our brochure is digital
It's not only people that travel! Shipping things around the world also uses energy. That's why make sure all the information you need is online.
The ECS brochure is available digitally and we only send out physical copies by special request. This helps us save paper, energy and other materials like ink, as well as reducing transport emissions.
What you can do
#1 Take the train to ECS if possible
Flying has a very high impact on the environment. If you can avoid flying you will dramatically reduce your emissions and therefore your contribution to global warming.
The UK is well connected to Europe via the high-speed rail Eurostar. In just two hours from London you can reach Paris or Brussels. In another two to three hours you can reach Cologne, Frankfurt, Amsterdam and most of France. Short-haul flights have an especially high impact and can be more easily replaced by train travel so check your options before you hop on a plane!
If you are interested in travelling to ECS by train, but are not sure what to do or would like to find a travel buddy, contact us.
We will do whatever we can to help support your low emission journey.
#2 If you fly, follow these tips
We understand that it can be hard to avoid flying. So if you do travel by plane to ECS, you can still reduce your emissions:
Take direct flights. Take off and landing create most of a plane's carbon emissions. Sometimes a flight connection can be replaced with a train or coach journey to help avoid additional flights.
Check if under 18s can travel unaccompanied. If there is a choice between travelling in the care of the airline (UM or unaccompanied minor services) or travelling with an adult, choose UM. It's safe, cheaper and better for the environment.
Fly economy. We understand that you might prefer more comfort, but this creates a much larger carbon footprint – releasing up to five times more carbon and harmful gasses into the atmosphere.
#3 Make your trip to ECS your only flight this year
Instead of taking multiple, shorter trips each year, choosing to take one longer trip will really reduce your travel emissions – and what better reason to travel than for a life-changing summer of learning, fun and new international friendships?
So if you can't replace your flight with train or coach travel, why not pledge to only take one return flight each year? And make it count by spending your whole summer at ECS.
A lot of energy is used to create plastic bottles, clothes and accessories, electronic devices and food. The earth is also harmed by the mining and deforestation needed to access and transport the metals, minerals, wood, glass and other materials our products are made of. That's why is it important to only buy and use what we really need, and to especially avoid single-use items.
At ECS we work hard to use less – whether plastic, paper, energy or water. And then, if items cannot be repaired, reused or repurposed, we recycle them. While recycling is very important and part of living responsibly, it's even more important to reduce the amount of high-emission materials, products and food we buy in the first place.
We also serve less meat and dairy as they require much more energy, water and land than serving plant-based foods. Animal agriculture is also polluting and leads to deforestation.
Find out more about what we do and how you can help us reduce consumption and waste by expanding the section below.
What we do
Using/ buying only what we need
Reusing, repairing and recycling
Provide plant-based options
Meat-free days
Save energy and water
Use reusable cups, bottle and bags
What we do
#1 Renewable energy
Many of the school buildings at Port Regis are solar powered and practical tools like leaf-blowers, grass cutters and hedge trimmers are now recharged from the panels. We have asked about their other sources of energy and work with them to ensure they are from other renewable sources if they aren't already. At our home office, where we are the rest of the year, we use 100% renewable energy.
#2 Low energy devices and good habits
Port Regis has invested in many energy-saving measures such as lights and windows controlled by sensors. They are not allowed to make changes to the older, mansion building so there we focus on good habits and taking responsibility for our surroundings.
We encourage pupils and staff to turn off lights and electronic devices and reduce water consumption, e.g. by taking shorter showers. We practice these same good habits in our home office the rest of the year.
#3 Rewarding and supporting reusable bottles and backpacks
Plastic bottles are a problem – making them releases millions of tonnes of carbon dioxide into the atmosphere, and then they aren't all recycled and can pollute water, choking and poisoning fish, whales and seals.
That's why, starting in 2023, we are encouraging our students to bring their own reusable bottle. We will promote this action in communications before the course, on social media and through the packing list. We'll also reward those who do with praise and special collectable green ECS stickers.
Previously we provided every pupil with an ECS bottle, but we realised we may be creating waste by giving bottles to those who do not need them. Now we only give bottles to pupils who don't already have a reusable bottle to bring with them.
#4 Meat free days and plant-based options
Vegetarian and plant-based foods are much more environmentally friendly than meat and diary because they use less land, water and energy.
That's why we always serve a vegetarian option and encourage our pupils to choose it.
We have at least one meat-free day per week and work hard to provide really delicious, plant-based alternatives. Share your experience and encourage your friends back home to join in with #MeatFreeMonday!
#5 Recycling facilities and composting coming soon
At ECS we have clear and easy to use recycling facilities. We explain everything to our pupils as we know recycling rules vary between countries.
Port Regis recently invested in a food waste machine called Big Hannah that digests waste food and converts it into compost. ECS will use it too from summer 2023.
#6 ECS is reducing paper and almost single-use plastic free
Plastic comes from fossil fuels. Often it can't be recycled because of contamination, it's the wrong type or there's just too much - only 9% of plastic waste is recycled globally. So it's burned, buried or ends up floating in the sea. This is harmful to people and other animals.
At ECS we use almost no single-use plastics. Some plastic cups were still used at parties and BBQs this year (2022) and we are going to make an effort to remove those too next year.
We encourage our staff to reduce photocopying and use less paper in their lessons. The paper we do use is recycled and bleach free ...
We used to send out thousands of brochures. This not only used energy to ship or fly them around the world, but it also consumed large quantities of paper - some of which was simply thrown away at the end of the year. By providing our brochure digitally, we are saving trees.
#7 Reducing toxic cleaners and chemicals
We, along with Port Regis, are also making an effort to ensure that no toxic waste products enter the drains from your school. For example Port Regis has started using new foam soap that not only eliminates use of plastic but is also is environmentally harmless. They are also reviewing their cleaning products and will replace them with ecofriendly products.
What you can do
#1 Choose the veggie option at mealtimes
Food is one of the biggest sources of emissions because raising animals, especially large animals like cows, requires a lot of land, water and food (that others could be eating!). Animal agriculture also contributes a lot of emissions, causes pollution and deforestation.
So choose the veggie option at ECS and when you're out on trips. It's one of the easiest ways to reduce your contribution to global warming and there are loads of delicious vegetarian and plant-based options now.
#2 Bring your own bottle (and win prizes!)
Plastic bottles are high-carbon and cause terrible pollution. Even if you put them in the recycling bin, many bottles are not recycled because of contamination and mismanagement.
By bringing your own reusable bottle you are reducing this problem. And it means you have more spending money because you won't have to buy a drink when you're out!
Plus, everyone who brings their own bottle can choose one of our special collectable green ECS stickers! ... and is entered into our 'green leader' raffle.
#2 Don't buy or take more than you need
You may have heard of the green Rs: refuse, rethink, reduce, reuse, repair and finally recycle. They are in that order because everything we use - from a sheet of paper to our mobile phones – needs materials and energy to be made.
The first Rs are refuse, rethink and reduce. That means refusing unnecessary items like plastic bags and products with too much packaging, rethinking what you need and buying less. It's lovely to buy treats and souvenirs while you are on holiday with us, but choose your items carefully rather than buying too much.
Similarly, don't overload your plate with food – this helps us avoid waste. And you can always have a second helping if you are still hungry!
#3 Take care, reuse and repair
Once you have something, it's important to avoiding binning it for as long as possible. Thinking about all that energy and hard work that went into making things, look after them, reuse and repair them.
If you no longer need or want something, there may be someone else who does. You can give items away to friends or second hand shops.
Throwing something away and recycling are the very last step.
So take care not to lose or break things, and pack all your things when you go – we don't want to throw away forgotten items!
#4 Recycle
When you are ready to throw something away, make sure you recycle everything possible in the recycling bins provided. If you are unsure, just ask.
#4 Save energy and water
Anything that uses electricity, uses energy. And that means it releases emissions that cause global warming. So please always turn lights and devices off when you don't need them, and unplug chargers too – they draw energy even when you aren't using them!
Cleaning, filtering and pumping water also takes energy. So save what you can by turning taps off while you brush your teeth and keep your showers short.
Connecting with and caring for our world
As well as doing more and more to reduce our emissions and negative impact on the environment, we also want to nurture and support nature, people and other animals.
That's why we spend lots of time outdoors with our pupils, giving them the opportunity to connect with their surroundings and learning to respect plants and animals. Our large green campus is a great space to explore, learn and relax. Spending time outdoors also benefits our health and mental wellbeing.
We also invest in our world and our pupils' future by giving money to environmental projects and organisations.
Find out more about what we do and how you can help us connect to nature and care for our world by expanding the section below.
What we do
Donate to environmental projects
Encourage you to match our donation when you book
Support biodiversity on campus
Give pupils many opportunities to enjoy and learn to respect our world
What we do
#1 We donate to environmental projects each year
In addition to reducing our emissions – the most important part of environmental responsibility, especially in a wealthy and high-emissions country like the UK – we also want to invest in our future by supporting environmental projects and organisations. If you are a current or past ECS student you can help us choose our next project by completing our ECS Green Survey.
#2 Encouraging biodiversity
Our host school is committed to planting around sixty new trees each year, and encouraging wildlife to use the woodlands on campus, with bird and bat boxes. We support these efforts wholeheartedly. We organise tours around the school grounds for our pupils to learn what the school is doing and hopefully to provide ideas to take home to their own schools.
The woodlands, stream and ponds on the campus are a wonderful teaching space, where pupils can learn about biodiversity.
#3 Connecting with nature
As educators, it is essential that we use our role to help deepen our pupils' connection to nature and environmental awareness through our choice of teaching materials and activities such as countryside walks, nature photography workshops, nature projects and nature documentary screenings.
Port Regis is fortunate in being set in large grounds in beautiful countryside and we make use of this rural setting to strengthen the pupils' connection with nature.
#4 Maintaining the momentum
We appoint green leads among pupils and staff over the summer to ensure we are not only doing what we say but are also always looking for new ways to reduce waste and emissions and connect with nature.
Between summers, Chris Etchells (Co-Director of ECS) continues his English Language Teaching environmental work through Green Action ELT. He is also a founder of Win Green Town, encouraging environmental action in his home town of Winchcombe. Recently Chris has been working with local school children on a project called Eco Schools and will be bringing this experience to ECS in Summer 2023.
What you can do
#1 Match our charitable giving
We invite parents and guardians to match our environmental giving when you book a course with us. It is wonderful to have your support investing in great projects that are reducing pollution, protecting wildlife, empowering and educating people. ...
Together we can have a real positive impact on our world.
#2 Enjoy and respect nature
Our campus at Port Regis is green and beautiful with woodland, ponds and even a small stream! Take time to explore and enjoy being in nature in your free time. Join our countryside walks, star gazing, nature projects and photography workshops to make the most of our amazing surroundings and to connect with our world.
Please do not pick or damage any plants. If you are under 11 years old, please ask an adult before you go exploring.
#4 Keep our world tidy
Don't spoil your surroundings with litter. Litter can pollute soil and water. And millions of animals like hedgehogs and voles die each year because they get stuck or eat litter.
Collect any food wrappings, papers or other items you have taken outside and drop them in the waste or recycling bins. Be especially careful on windy days!
Inspiring and influencing others
The environmental crisis needs everyone to take action, reduce emissions and help save lives, communities, habitats and landscapes. Everyone can make a difference by changing how they live and by talking to others to encourage everyone to do as much as they can.
Educators have a special opportunity and responsibility to increase environmental awareness and empower pupils to express themselves and shape their world. Everyone, and young people in particular, has the right to explore and understand the climate crisis and what it means for their future.
At ECS we encourage everyone – our pupils, staff, local communities and fellow language schools – to learn more about the impact we are having on our world and how we can change course to a better, greener future.
What we do
Environmental topics in lessons
Work with our host school and other service providers
Support a greener industry with Green Action ELT
Local action group
Share what you learn with friends and family
What we do
#1 Discuss environmental topics in the classroom
We use our classrooms as a safe space to explore issues about the world. Our teachers talk to pupils about all sorts of topics, developing their critical thinking skills, and encouraging discussion and research, especially with older learners.
This gives our pupils lots of opportunities to express themselves in English and learn a huge range of topical vocabulary during their summer residential course at ECS.
#2 Pushing for green action across ELT
Chris, Co-director of ECS, is part of an industry effort to encourage good environmental practice at language schools across the UK and beyond.
The small group of dedicated volunteers at Green Action ELT give their time to raise awareness and run events, all to encourage and support environmental action in the English language teaching industry.
#3 Working with Port Regis School
When looking for a host school for our summer courses, environmental sustainability is a key priority. And we have a wonderful partner in Port Regis.
Port Regis shares our commitment to a more sustainable future, makes considerable efforts to save energy, reduce waste and encourage sustainable living. See Port Regis' green vision.
#4 ECS is a Green Standard School
Here at ECS we are proud to be one of the first UK schools with independent accreditation for green action and sustainability in English language teaching.
Green Standard Schools is a not-for-profit association of green language schools.
What you can do
#1 Keep it up when you return home
Remember the good times you had at ECS and the things you learnt about the environment and sustainable living. Try to continue living responsibly and encourage others to do the same when you are back home.
You can stay motivated by following inspiring people like Greta Thunberg from Sweden, Nyombi Morris from Uganda, Luisa Neubauer from Germany, Autumn Peltier a first nation activist from Canada or Amy and Ella Meek who founded Kids Against Plastic in England.
#2 Talk to friends and family
We hope to send our pupils home with a renewed interest in environmental issues and energised to take action.
So when you get home, ask your friends and family 'what more could we be doing?' And then think together about the changes you could make to reduce your emissions. There are lots of calculators out there to help you understand what has the greatest impact in your life. The key areas for most people in wealthy countries are transport, food and other shopping, like clothes and electronic devices.
#3 Join or start a green club at your school
And you don't need to stop at home. If there isn't already an environmental group at your school, sports team or other club, form one! It is much easier to make changes together and this group can share ideas and make plans for greener provision.