Feedback & testimonials
ECS Summer 2022
It was wonderful to welcome pupils back to ECS in summer 2022 after closing for two summers during the Covid-19 pandemic. We are so pleased to have received such positive feedback from both pupils and their parents and guardians. Seeing these children and teenagers gain confidence, have fun, connect with each other and with nature, and improve their English is endlessly rewarding.
Many thanks to everyone who joined us and to our team, who made a great summer possible.
Our latest feedback
This isn't the most recent feedback we have available! See what pupils and parents thought of the most recent course:
What parents and guardians say
Parents and guardians of our pupils say their children return with boosted confidence, improved social skills and broader horizons. The experience away from home with peers from all around the world builds young people's independence and understanding of different cultures.
In 2022:
100% of parents and guardians said their child enjoyed their stay
75% said their child definitely improved their English
89% said their child definitely developed personally
89% said their child definitely made new friends
96% said their child returned home happy and healthy.
The remainder were unsure. Nobody said their child didn't improve, develop, make friends or return home happy.
In their comments, many parents note the high standards of ECS courses, the well-organised programme, the safe and enriching countryside setting, and the dedication of our staff.
They highlight the value of an international education, where you meet people from all around the world, learning respect for others as well as having the chance to improve your English.
View full results of the ECS Summer 2022 parent and guardian survey
"ECS was a great experience for my daughter. She improved the English but also developed personally. She returned really happy and with new friends."
Parent from ECS Summer 2022
"A great summer school - I have sent three children here at different ages and they were all super happy and came home with new friends and experiences. The kids are really well looked after, so no worries for parents back home. Absolutely recommended!"
Parent from ECS Summer 2022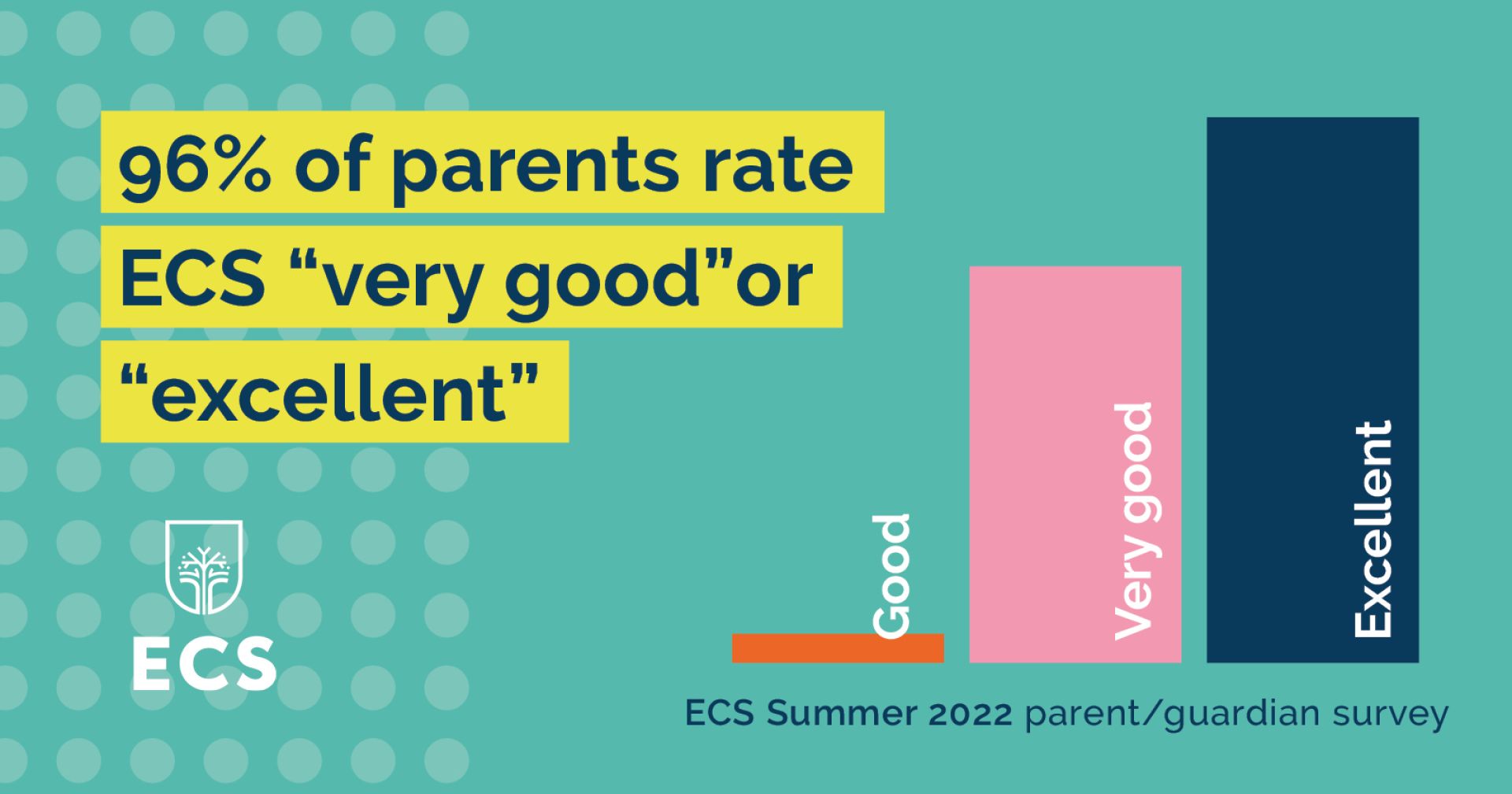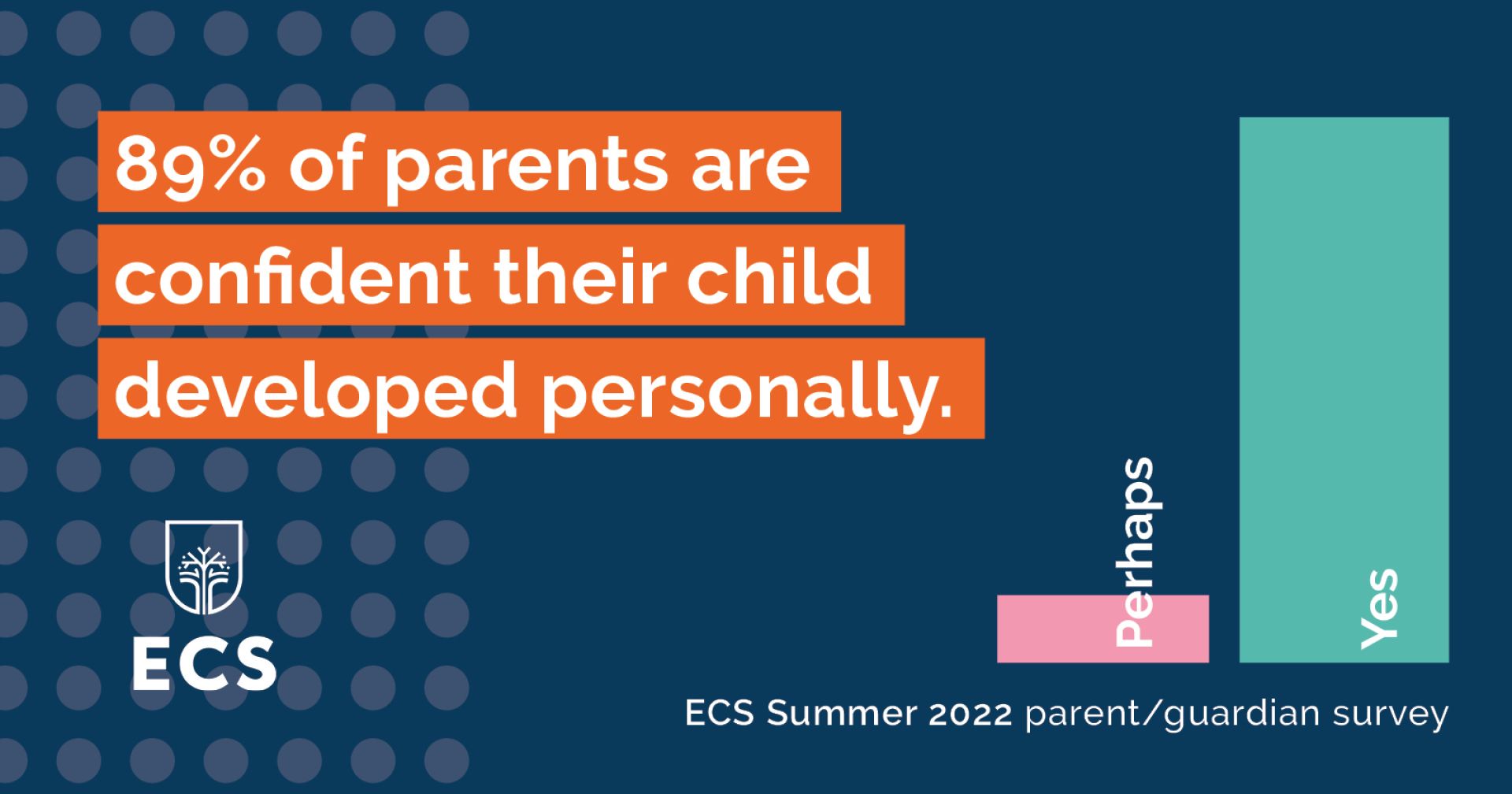 What children and teens say
Our 2022 pupils say meeting new people and making friends from around the world is the best thing about their ECS experience, followed by all the different activities, social events and trips they can join. Many mention immersion in English and around 10% of pupils surveyed simply cannot pick one best thing, so said everything is great at ECS!
Our pupils report that their English improves a lot during their stay at ECS and that they feel more confident using it after their course. A lot of pupils comment how much they enjoyed and benefited from talking to their international friends all day in English.
In 2022:
99% of pupils said they improved their English at ECS
100% said they absolutely or mostly had fun during their stay
97% rated their English lessons as good, very good or excellent
99% described the ECS evening social programme as good, very good or excellent
87% thought the excursions and trips as good, very good or excellent
98% rated the sports programme as good, very good or excellent
76% rated the food as good, very good or excellent
96% made a lot or quite a lot of new international friends at ECS
96% found the staff friendly all or most of the time.
Pupils describe the ECS team really positively in their feedback, including 'really friendly', 'always kind' and 'top notch'. Almost all our pupils include thank you messages to teachers and staff in their comments too.
View results of the ECS Summer 2022 teen survey (course 1)
"ECS is the best thing that has ever happened to me, thank you for all the great memories I have made here."
Sonita, age 17, ECS Summer 2022
"ECS is a great school, full with great teachers, and great sports and activities for fun and learning. I hope I will be back here next year!"
Ali, age 14, ECS Summer 2022