Healthy and delicious
meals for everyone
A balanced and responsible diet
At our English residential summer school, we provide a balanced, healthy diet for our pupils with plenty of fresh, enjoyable food. Food is included in the course price.
We serve three main meals each day – breakfast in the morning around 08:30am, lunch around 1pm and dinner around 6pm. We also have a mid-morning and mid-afternoon breaktime with snacks and refreshments. See our daily timetable for more about our daily routines.
Meals are served in a bright, modern canteen overlooking the beautiful green school grounds. At every meal there is a choice of hot and cold dishes and our house parents assist the younger children in making a balanced choice.
To give you a good idea of the range and quantity of food available each day, watch this short video showing a lunchtime spread at ECS summer camp 2023.
Inclusive food for everyone
At ECS we want everyone to feel welcome and included. This can be especially important at mealtimes, when all our pupils come together to eat and socialise. We teach open mindedness and respect for difference, and are more than happy to cater for different diets.
Pork products are clearly labelled and there is always a no-pork alternative. We serve a vegetarian option at every mealtime and our catering team can prepare food for other dietary requirements such as allergies, no-gluten or no-dairy diets. Please contact us well in advance to make sure we can provide suitable snack and mealtime options for your child.
In order to improve our environmental impact, we are also making an effort to serve less meat and more plant-based food.
Like many others, when we heard about the impact of animal agriculture on the climate, we decided to start making a change for the future of our children and all the children on our courses. We are reducing our meat consumption both at home and on our courses.
Raising animals for meat and dairy is a very large source of emissions. It also leads to deforestation, land degradation, loss of biodiversity and water pollution. So, as a school that takes our environmental responsibility seriously from the local environment our pupils enjoy each summer to the environmental impacts on people around the world, we recognise the need to improve the environmental impact of our catering.
Trying new things is part of the ECS summer experience and that includes food – from mealtimes to baking and cookery workshops. What's more, well-planned plant-based meals are also very healthy and inclusive for everyone.
Breakfast
For our first meal of the day, pupils can enjoy fresh fruit, different types of yoghurt, cereal and bread. There are also different hot specials each day, such a as eggs, croissants and sausages.
Daily options

Fresh fruit
Yoghurt
Variety of cereals
Variety of breads and toast

Specials

French Toast
Boiled, poached or scrambled eggs
Eggs Benedict
Baked beans
Sausages
Grilled vine tomatoes
Sautéed mushrooms
Croissants and pain au chocolate
Porridge
Hash Browns
Cheese and ham

Drinks

Fruit juice
Water
English breakfast tea
Coffee
Hot chocolate (Sunday special)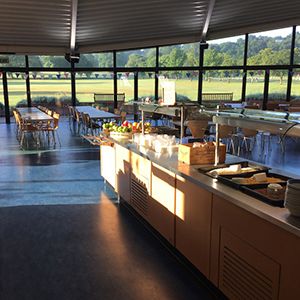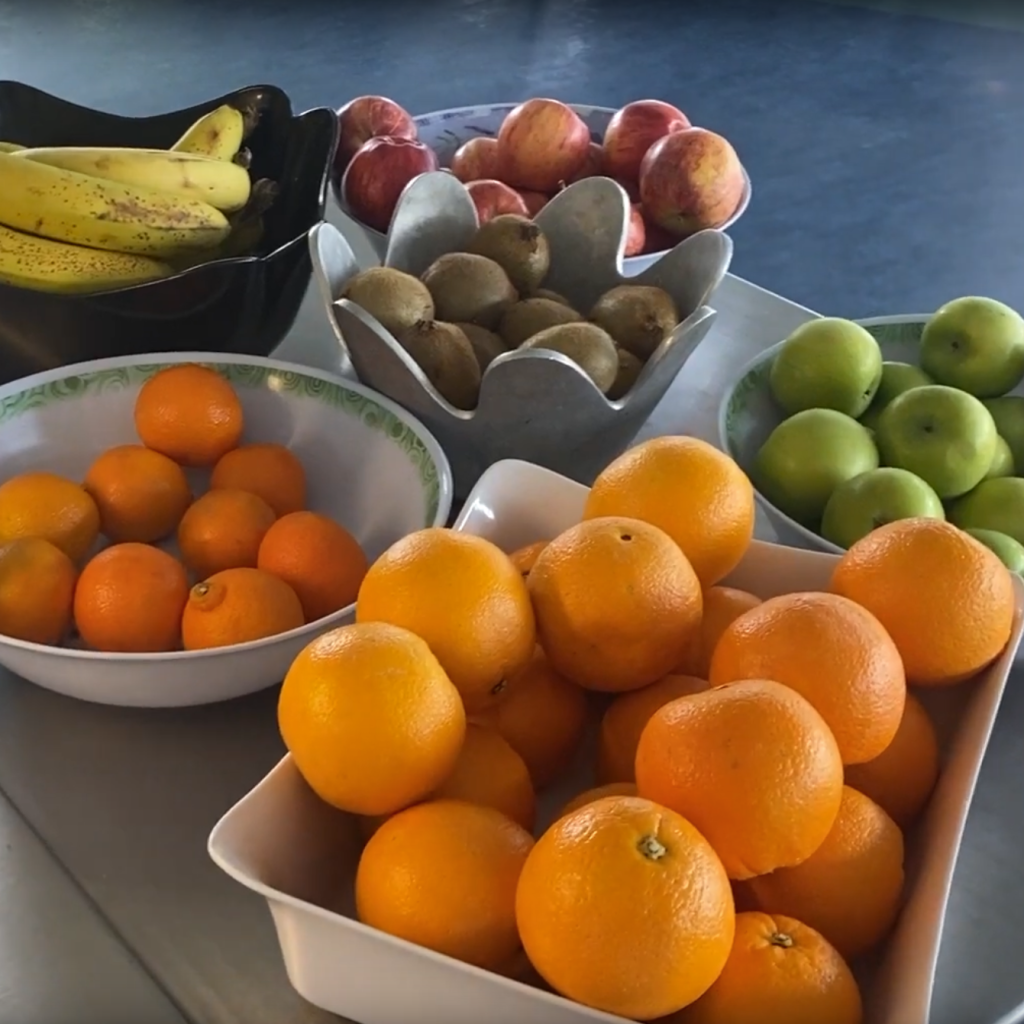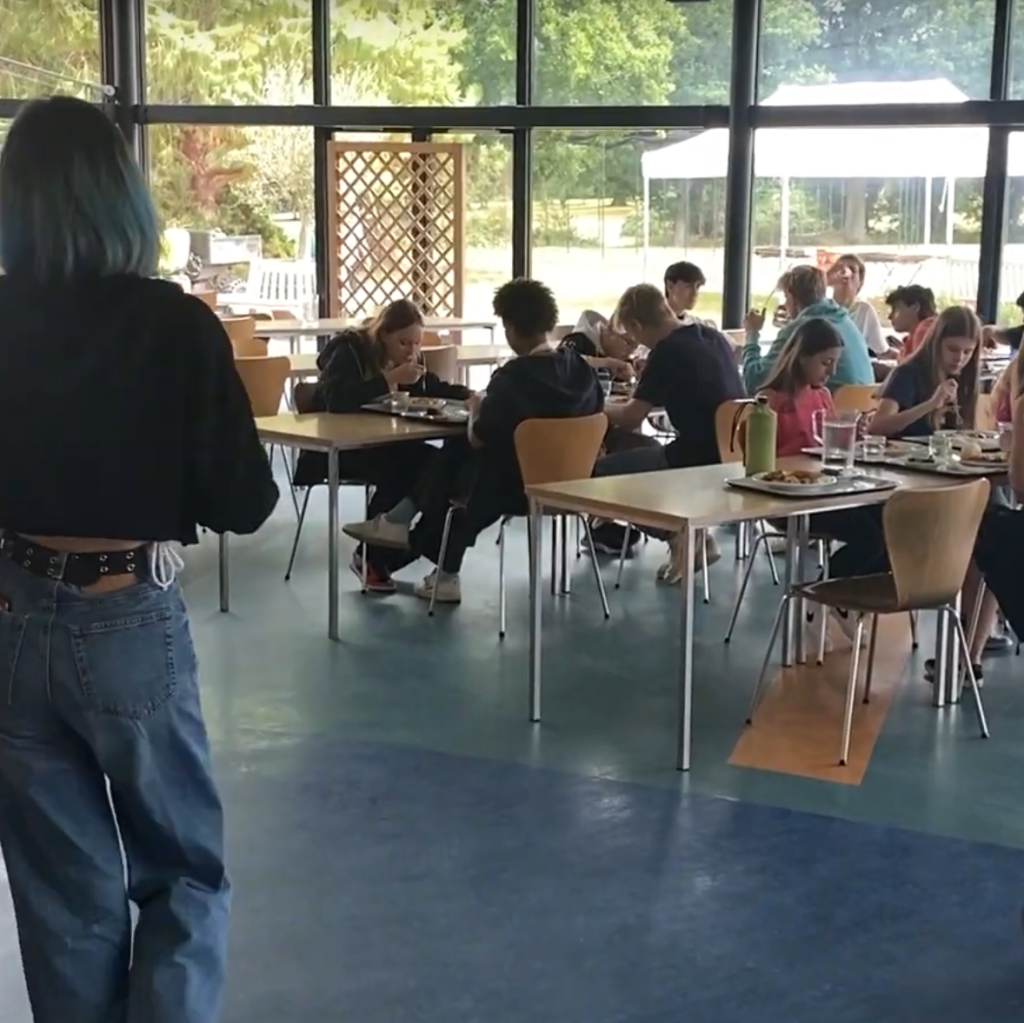 Lunch
For our daytime meal there is a choice between two hot dishes, such as pie, curry or pasta. There is always an extensive salad bar with a variety of fresh vegetables, grains or beans, and cold meats. There is also fruit, yoghurt and a different dessert each day.
On weekends pupils usually make up a packed lunch at breakfast to take with them on their trips and activity of the day.
Salad bar

Fresh vegetables such as cucumber, lettuce, tomatoes
Cold meats such as sliced beef, sausage, shrimps, tuna, ham
Coleslaw
Roasted butternut squash
Greek salad
Mozarella
Cannelloni beans
Beetroot and pumpkin seeds
Grated carrot and caraway
Chickpea salad
Quinoa salad
Black bean salad
Grilled cauliflower
Couscous and roasted veg
Beetroot, onion and sweet potato salad
Oils, sauces and vinaigrettes

Mains

Cauliflower and potato curry with rice
Pesto pasta
Creamy korma curry with Bombay potatoes and naan
Chicken pie with carrots, cabbage and roast potatoes
Spaghetti Bolognese
Chestnut and mushroom potatoes with mozzarella and grilled tomatoes
Toad in the hole with onion gravy, peas and mashed potatoes
Indian dahl with basmati rice, Bombay potatoes and naan
Courgette and aubergine wellington with carrots, cabbage and roast potatoes
Cheese and leek puff pastry with green beans and chips

Desserts

Gooey chocolate brownie with cream
Warm syrup sponge with custard
Homemade profiteroles
Classic Victoria sponge cake with custard
Fruit, custard and jelly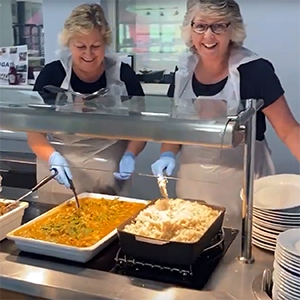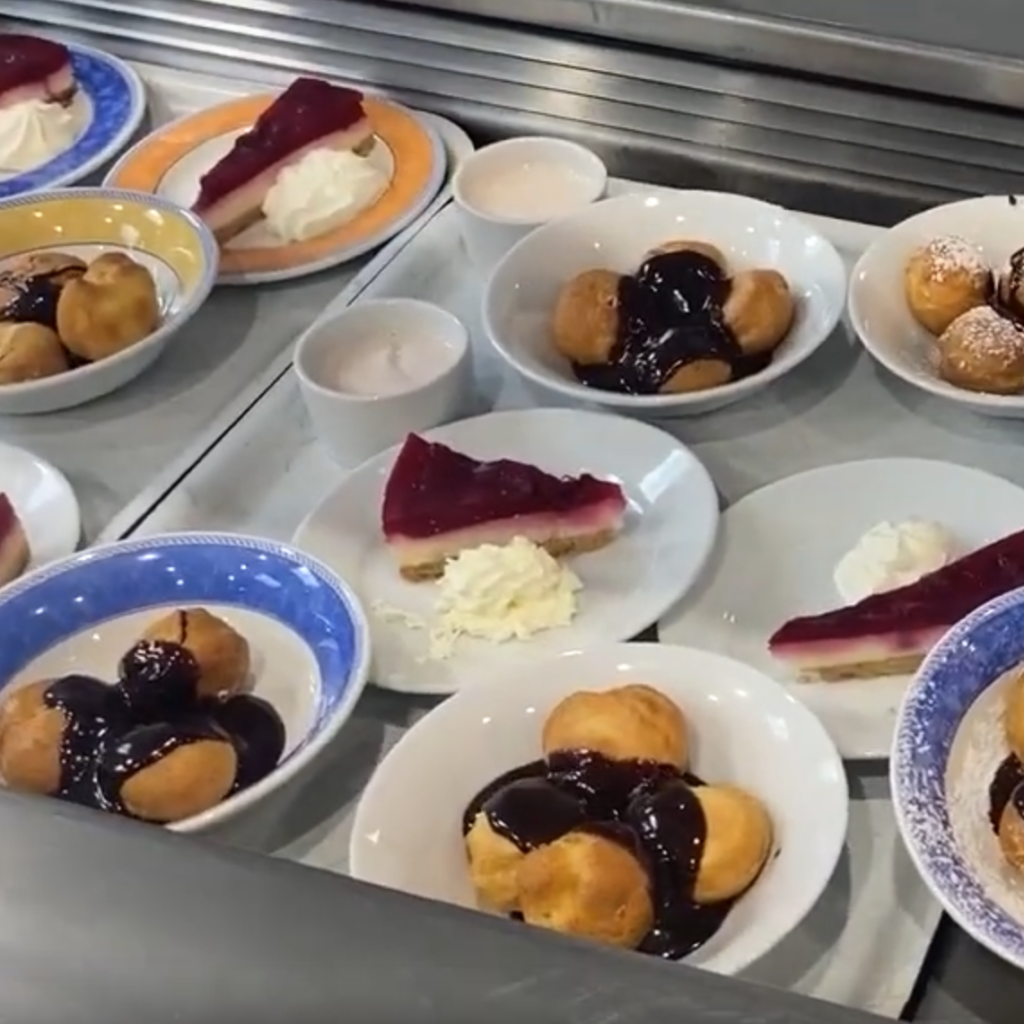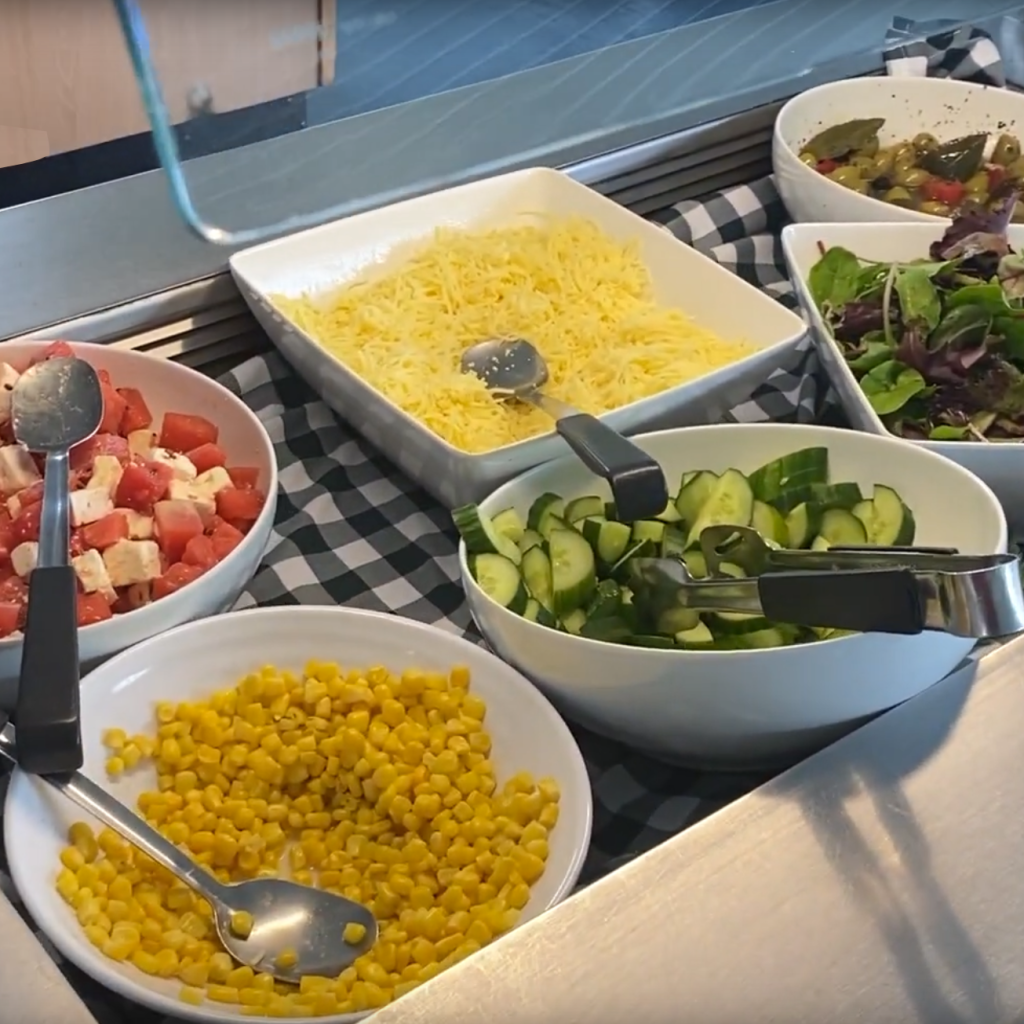 Dinner
Our evening meal always includes choice between two hot dishes as well as a selection of sides at the salad bar. Dinner options include fajitas, pizza, pasta, chili and burgers.
Salad bar

Fresh vegetables such as cucumber, lettuce, tomatoes
Cold meats such as sliced beef, sausage, shrimps, tuna, ham
Coleslaw
Roasted butternut squash
Greek salad
Mozarella
Cannelloni beans
Beetroot and pumpkin seeds
Grated carrot and caraway
Chickpea salad
Quinoa salad
Black bean salad
Grilled cauliflower
Couscous and roasted veg
Beetroot, onion and sweet potato salad
Oils, sauces and vinaigrettes

Mains

Cauliflower and potato curry
Sweet and sour curry with rice and prawn crackers
Fish pie with spicy wedges
Fajitas with guacamole
Pizza bar
Penne Arabbiata and penne A'Matriciana
Burgers, sausage or kebab with potato salad and buns
Pasta with roast veg and a choice of sauces
Mushroom Stroganoff with garden peas
Bean chilli with sweetcorn and spicy wedges

Desserts

Chocolate mousse
Assorted doughnuts
Chocolate eclairs
Strawberry cheesecake
Chocolate crunch and raspberry sauce
Ice cream
Banana milk shake